The 5 reasons why you need maternity clothing
Designing clothes for the pregnant body is more than just adapting measurements to fit a bump, it's the uniquely thoughtful approach that seeks to ease the physical and emotional changes women experience, according to CARI founder Sue Carter.
Simply put, maternity-fit is clothing specifically designed to grow with your ever-expanding shape - especially your bump, bust and back - and made in fabrics that are fit-for-purpose (four-way stretch, breathable, lightweight) to deliver comfort as you progress through pregnancy. 
Faced with a limited fashion choice that works for you, we understand why many mothers-to-be look to non-maternity they can fit into, or feel like it's a waste of money to invest in clothes for what feels so temporary. However, practically speaking, to fit a 9-month bump you will need to buy clothes two or three sizes bigger and chances are you won't wear them in the future as they will swamp you; also the clothes have not been designed for a bump, with maternity the designer is focused on making you and your bump look and feel as good as possible.
This is the reason why it's so much more flattering to wear maternity rather than opting for bigger sizes as you progress through pregnancy - it's fit, but also the consideration of factors such as pregnancy overheating, how big your bump can grow and the fact you may not be able to do practical things such as shave your legs anymore (a key reason why a lot of maternity dresses are maxi length!) Consider sportswear; technically you can wear anything to exercise, but it is a very different experience to working out in the right clothing.
If this is your first pregnancy and you are planning more babies, then it makes sense to invest in a few timeless pieces that will stay in your wardrobe. Also, approach from the viewpoint that it may take a few months before you return to your pre-baby body and most maternity pieces are also breastfeeding friendly - so you will need some suitable pieces for those first few months.
Key Features of Maternity Wear
Clothes that are designed to expand with you: Go for loose ribbed fabrics, dresses with pleats or gathers etc. This is really important because clothes that are stretched over the bump often feel constricted and uncomfortable - which is best avoided in the final months, especially when you have a very active baby.
Water retention in the third trimester means you can end the day almost a full-size bigger than the morning, with swollen ankles, legs and upper back. Ensuring clothes fit these areas comfortably makes such a difference for everyday life, pregnancy has enough challenges! At CARI, we drop the armholes to counteract back swelling.
Fit-for-purpose fabrics: pregnancy is a time when skin can be ultra sensitive and the body overheats quickly, so having natural breathable lightweight fabrics that feel soft on your skin is an essential. Avoid polyesters as they are a synthetic fabric that is not breathable - thoughtful design means choosing a viscose or cotton because they will help keep you cool. At CARI, the cottons we use are certified organic which means free from harsh synthetical agricultural chemicals. Always choose the most premium fabrics your budget allows
Aesthetically, clothes that are stretched will drag on the side seams, it's not the best look and the risk of ripping is high. These clothes are unlikely to revert to the original shape. Maternity fit is designed to expand where it's needed.




Maternity fit also delivers specific design details that are based on the practicalities of pregnancy life: form-fitting shapes (with side ruching) flatter the pregnant silhouette where baggy dresses or opting for a size up can make you appear bigger all over. At CARI, we focus on the little details; the shoulders of this ribbed dress have been designed to balance upper-body bloating by adding definition in this area. Another feature is doing maxi length in summer, as a mother-of-two I understand how challenging it can be to shave your legs so maxi dresses offer a little extra coverage.
 
When do you need to start considering Maternity Fit?
No two women have the same bodies, and no two women experience pregnancy the same way, so there's no set rules. By 14 weeks most women will have noticed their belly growing, and find tight trousers and jeans no longer fit comfortably, but dresses will usually fit until around the five month stage.
Around the six-month mark is when the bump really pops, and then grows rapidly for the remaining weeks. What you need will depend on your unique lifestyle and the season - if you are going into an office everyday you'll want to invest in some key pieces to build a capsule wardrobe. If your day-to-day is more casual then you can probably get away with just a few dresses or jumpsuits that can be dressed up or down, and will take them from day to evening.
Discover our recommendations for how to build a capsule wardrobe for pregnancy here.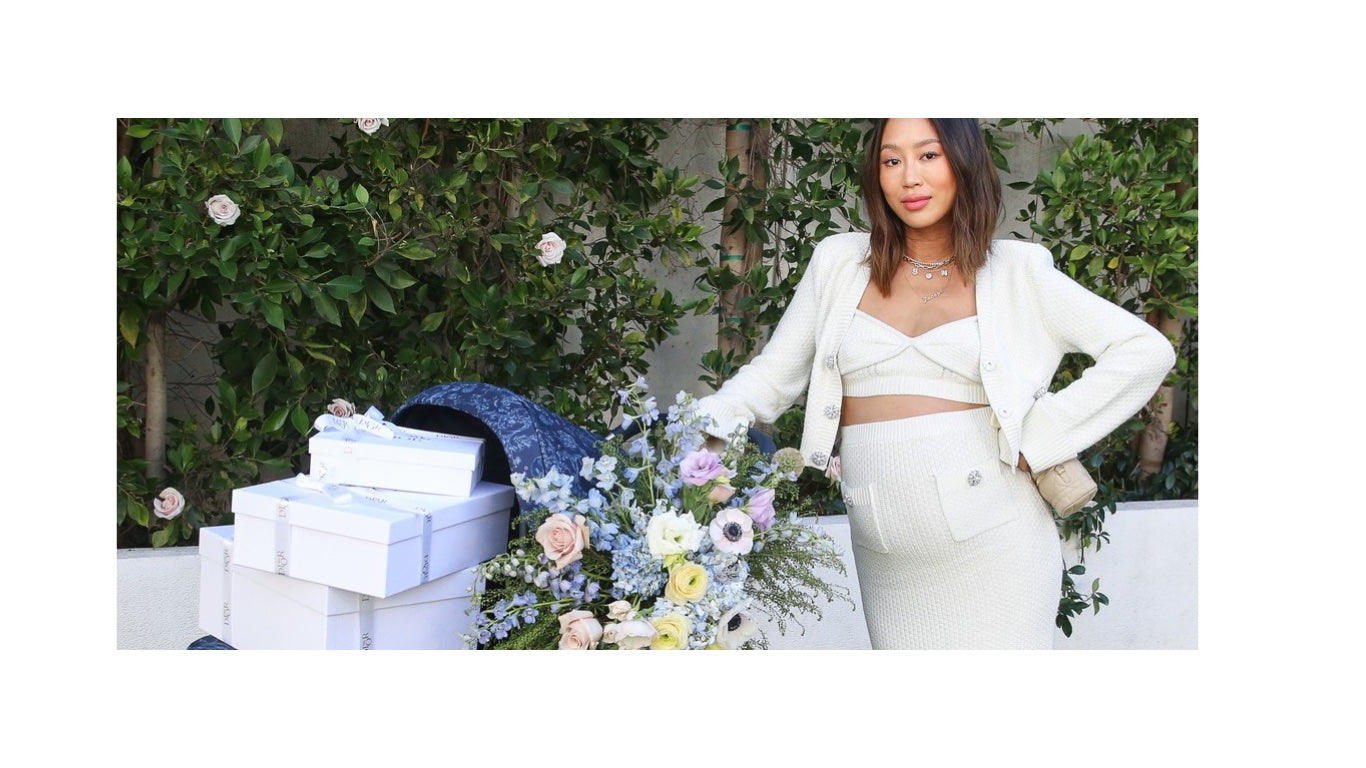 A Baby Shower for the Modern Mother
Five alternative ideas for a unique baby shower celebration…as well as your guide to choosing the picture-perfect dress So, you're preparing to welcome your little one into the world; congratulat...
Read more