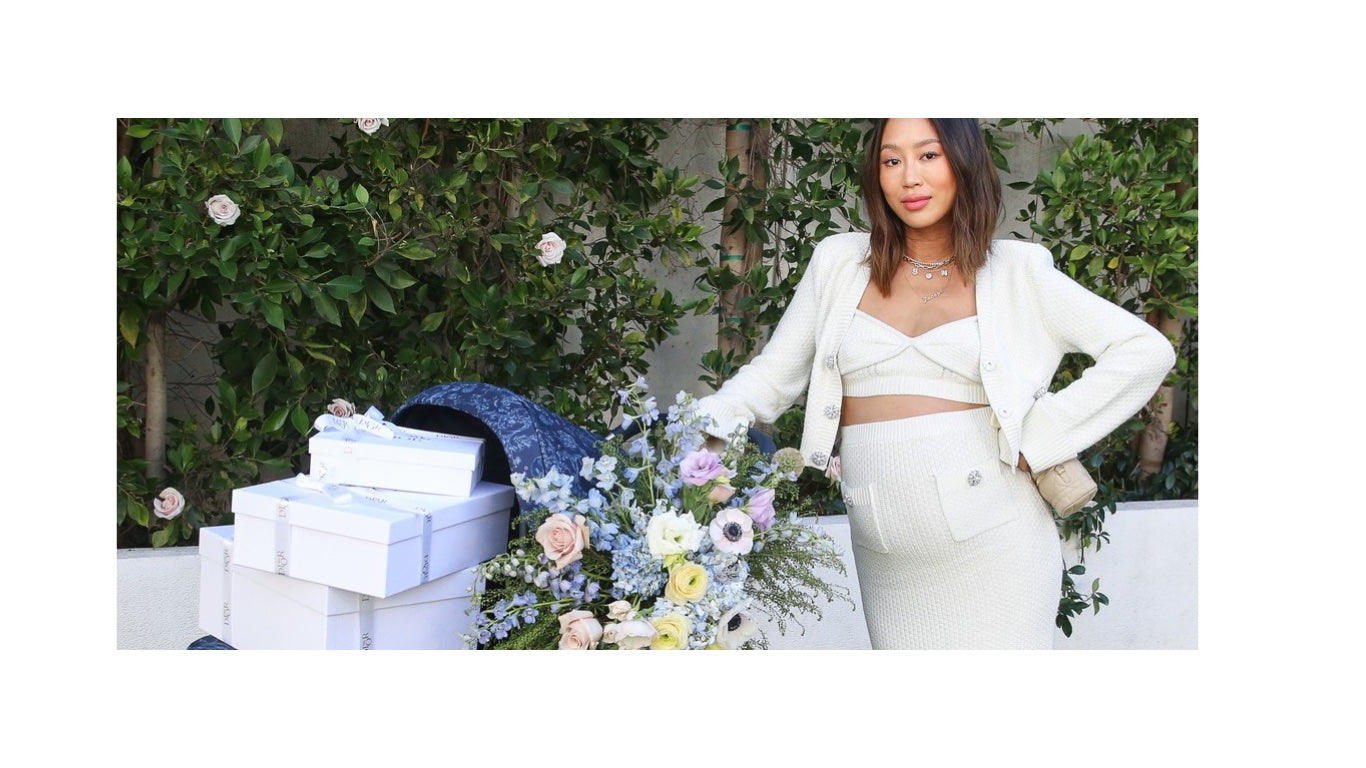 A Baby Shower for the Modern Mother
Five alternative ideas for a unique baby shower celebration…as well as your guide to choosing the picture-perfect dress
So, you're preparing to welcome your little one into the world; congratulations! If you like the idea of marking the occasion, but the traditional Baby Shower concept of baby-themed decor and games doesn't appeal and you are searching for more inspiring ideas, then you've landed in the right place.
Perhaps you would like the event to be more of a 'parents-to-be' celebration or want to use it as a final escape with close friends? Here are our top five suggestions for more meaningful and personal gatherings that are a perfect way to celebrate you and your pregnancy.
Pregnancy Spa Weekend
Pregnancy is exhausting on the body, as will be the Fourth Trimester. Checking into a lovely hotel for a spa day / weekend is not only an opportunity for much-needed pampering but it's also a wonderful way to get one last girls-only weekend. As well as indulging in your wish-list of treatments, it's a great opportunity to recharge while spending quality time with close friends and family members before life changes…and the chaos begins. 
Most luxury hotels offer spa packages for mothers-to-be, so hopefully it's will be easy finding one with experienced pregnancy therapists and the location that suits you best.
A Spiritual Blessing 
Be ahead of the pack and throw a Blessingway – or Mother Blessing. It's a very spiritual prenatal celebration that was originally a Navaho tradition, to prepare a woman for the transformation into motherhood. If you are looking for ideas on what to do instead of a baby shower then this holistic-style ceremony is gaining in popularity, and is perfect for those who prefer the focus to be on nurturing the mother-to-be and celebrating motherhood. 
A Mother Blessing is traditionally a woman-only event that involves gathering closest friends and family. Guests share stories or their own experiences around pregnancy and childbirth, light candles as a symbol of support as well as performing other rituals and traditions to fill up mother's cup before she embarks on welcoming her new little one. The ceremony can be performed by a doula, or indeed anyone with an interest in holistic / healing / meditation, and is intended to remind the mother-to-be how supported she is by her close community on this life-changing journey.
Brunch, baby!
If baby shower games and gifting obligations give you the icck, invite those you'd like to celebrate with to join you for stylish brunch at your favourite spot! No organising or clean up required and you can avoid the baby shower decorations. It's a lovely opportunity to get dressed up and go out to your favourite restaurant for fun with friends. 
If you're looking for a little inspiration, then check out Los Angeles's based fashion designer / influencer Aimee Song's very sophisticated Baby Dior brunch (pictured above).
If the idea of 'gift giving' makes you uncomfortable, but your guests are insisting, ask them to bring their favourite children's book as a present. It's minimal in terms of cost, and they can include a note for you and your little one to read together in the future.  
Open Up
If you're looking for a modern baby shower with a difference that also celebrates the father / parent-to-be, then holding an open house couldn't be more perfect. It's as low-key or elevated as you desire and ensures you will be in the comfort of your own home without having to travel. Set a date, tell your nearest and dearest and open your house to allow anyone to simply drop in and say hello. If you're welcoming a summer baby, a garden party style event would be lovely.
A Nesting Day
When it comes to getting organised, take all the help you can get while making use of the skills of your friends and family. Instead of a party, invite people to help paint, decorate and assemble furniture in the nursery - putting it together is a big job. Also, as first-time mother you may feel clueless about how the first few weeks will work and what to do - take the stress out of this by asking for tips from those who already have babies or the Grandmothers, they'll have the little onesies and drawers of muslins, clothes, nappies organised in no time, as well as hopefully showing you how to use all the equipment such a breast pumps, sterilisers etc. 
When it's all done, you can celebrate with cake and drinks while you marvel at the new nursery that magically appeared, lovingly created by the 'Village' that will play a role in your child's life.
Are you planning a baby shower? Do any of the above new ideas appeal to your personal tastes - we'd love to hear all about your plans in the comments, and remember…
If you want to become part of our supportive community...we'd be delighted to walk with you on your motherhood journey. Simply subscribe to our newsletter for all things motherhood and style - and you'll also be the first to hear about our new arrivals & secret sales.